FREETRAILER IS A DANISH CONCEPT THAT LETS YOU BORROW TRAILERS AND CARGO BIKES FOR FREE
We focus on the customer experience
Since our beginning in 2004 Freetrailer has worked hard to provide a sharing economy solution that benefits everyone. The idea is as simple today, as it was back then: to let anyone who needs a trailer or electric cargo bike lend one for free.
At Freetrailer we work according to the principle: We make sharing easy! Our award-winning Freetrailer app makes this sharing principle easier than ever, with users able to pick up and return trailers and eBikes themselves with our self-service concept.
IKEA, Silvan, ILVA and many other partners have already joined our mission. All of our partners help our mission by providing access to our trailer service at their stores. Meaning users never have to look too far when they need to borrow a Freetrailer!
Sounds too good to be true? Watch the video below to see how "Lending a trailer with the Freetrailer app" works. 
2022: Winner of the E-Commerce Award
Freetrailer wins the Danish E-Commerce Award 2022 in the category "Best B2C company with online turnover under DKK 100 million".
2021: +600.000 rentals in the year

Freetrailer reach a new record with 600,000 rentals for the year and enters into a new global agreement with IKEA.
2020 +400.000 rentals in the year
Freetrailer reach a record of 400,000 rentals for the year.
2019: Expansion into Germany
Freetrailer expands its concept to IKEA department stores in Germany.
2018: 300.000+ rentals in the year
Freetrailer goes public on the stock exchange and round 300,000 rentals.
2016: Expansion to Norway
Freetrailer gains huge success and expands to Sweden and Norway. Electric cargo bikes become the company's newest rental product.
2004: Freetrailer is established
Freetrailer is founded in Copenhagen by Allan Sønderskov Darré and Aksel Blomgren Ambjørner with the aim of making it easier for consumers to rent trailers.
Freetrailer was born from an idea that originated from the world of sharing economy, and has now grown into an international company. 
Freetrailer was founded in 2004 as a sharing economy platform intended to make it easy for consumers to rent a trailer. Thanks to the user-friendly app, todays' consumers can manage their trailer rental themselves. Over 5,5 million people and counting have already used our Freetrailer app.
Freetrailer works with a two-part growth plan in which reinforcing the existing home markets comprises one part while further internationalisation of the concept makes up the other.
Freetrailers on the roads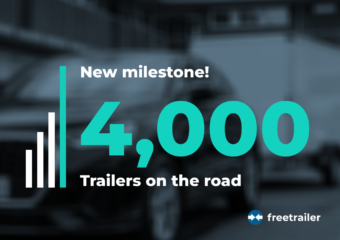 Freetrailer has recently reached a remarkable milestone that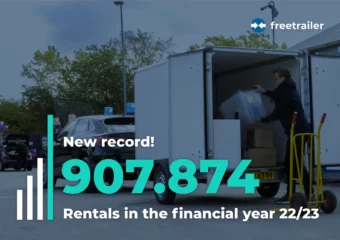 Freetrailer's financial year 2022/2023 breaks several rental records.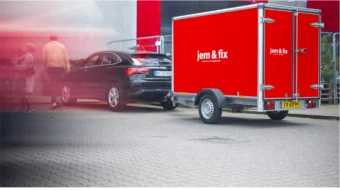 The low-price DIY store jem & fix enters