Rent a free trailer anywhere in Denmark, Swede, Norway or Germany for whatever you need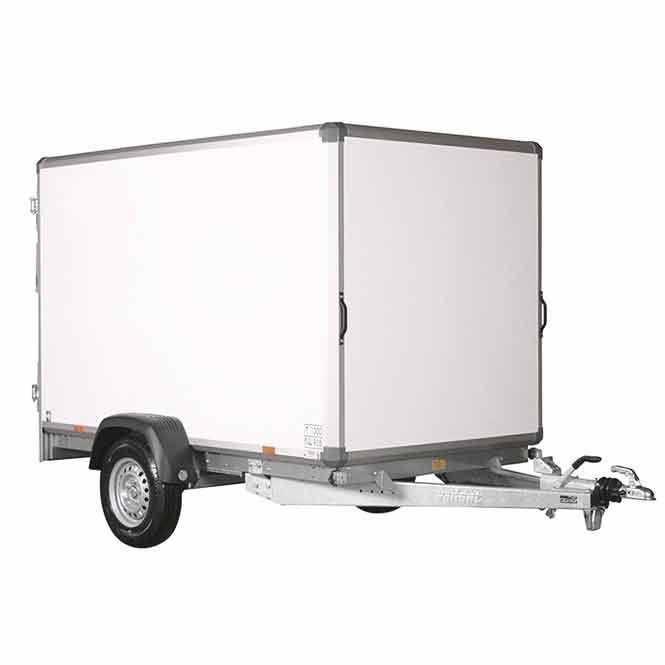 Our super
practical
closed trailer
Moving house and need a trailer?
Or maybe some of your old stuff up in the attic needs to go into storage? No matter what you need it for, you can always use one of our practical closed trailers.
With a closed trailer, you can easily get your things from A to B. When you hire a closed trailer, you can use it for a whole day. Meaning no need to stress about how to transport your things.
Our closed trailers are freely available at Freetrailer locations throughout Denmark. Use the Freetrailer app any time to find your nearest available closed trailer.
Our self-service model means you manage pick-up and returns – without having to interact with the individual store. Giving you better control over your trailer rental.
| | Lengde | Bredde | Høyde |
| --- | --- | --- | --- |
| Innvendige mål: | 258 CM | 148 CM | 152 CM |
| Utvendige mål: | 401 CM | 191 CM | 220 CM |
| Dimensjonene på døråpningen: | | 137 CM | 152 CM |
| | |
| --- | --- |
| Totalvekt: | 750 KG |
| Egenvekt: | 360 KG |
| Lastevekt: | 390 KG |
Here, you will find an overview of the weight and dimensions of our closed trailers. This overview may be particularly helpful if you want to make sure there is space for your things or other requirements.
Both of the rear doors open fully to give you guaranteed convenient access for loading and unloading your stuff. The entire cargo space is accessible, allowing you to move as much as possible.
With a closed trailer, you can fill the trailer up to the ceiling, giving you more space for your stuff. Plus, the trailer easily attaches to your car using a standard tow bar.
Frequently asked questions
Through the Freetrailer app, you have access to Freetrailer locations all over Denmark, Sweden, Norway and Germany so it's easy to borrow trailers or cargo bikes that meet your transport needs.
Didn't find your answer?
If you have further questions, you can easily contact our support team through our chat function.