Freetrailer, whose business model is based on the sharing economy, has compiled a list of some of the biggest sharing economy trends and tendencies. Freetrailer has just conducted a Swedish survey that shows how it has become more important for Swedes to live circularly and sustainably. As this happens, the popularity of sharing economy services is also increasing.
The purpose of sharing economy services is to share goods by renting, sharing or borrowing them instead of owning them. A big reason for the popularity of this type of service is the economic and environmental benefits. In Freetrailer's latest survey on sharing economy trends, as many as 38% stated that the main reason for using sharing economy services is precisely the economic benefits. A full 32% said it is because it is environmentally friendly.
Freetrailer's survey of sharing economy trends and tendencies also shows that just after the tools and equipment categories, it is within vehicles and transport areas that Swedes are most likely to make use of the sharing economy. One flexible solution within the vehicle category that we will see more of in 2022 is the sharing of electric cargo bikes. Something that Freetrailer also offers. An equally convenient and green transport option, which according to Johan Wijkander of Freetrailer will do well with users.
– The Freetrailer Group was quick to jump on board when it came to sharing economy. Back in 2004, we started our company, which is based entirely on the benefits of borrowing instead of owning. We strive to find creative ideas and solutions that make transportation from A to B as smooth as possible. That's why we offer free loans of trailers from several major operators around Denmark, Sweden, Norway and Germany. It's great to see how society is more aware of what the sharing economy is. We're already seeing how more companies are following the trend and finding new solutions that make it easier to borrow and share, says Johan Wijkander, Country Manager Sweden at Freetrailer.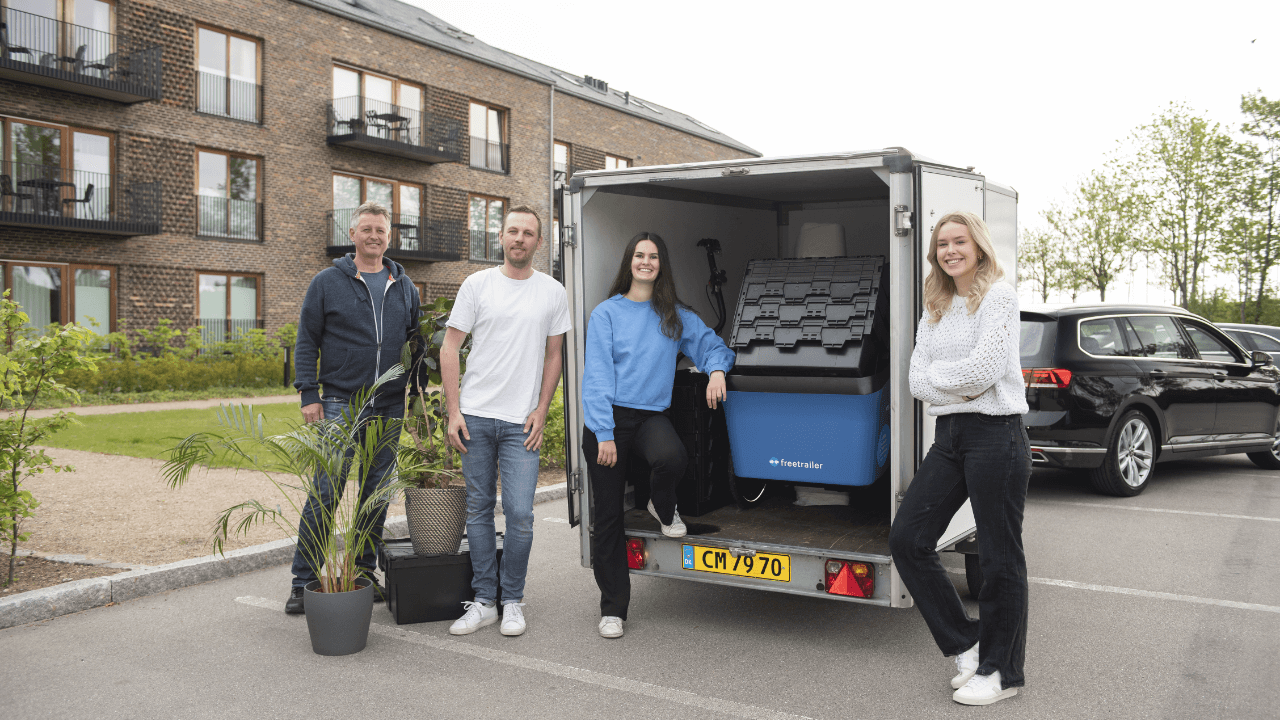 Sharing economic trends that will continue to develop in 2022
 1. Co-living – the new way to live?
The sharing economy model is becoming increasingly attractive to a variety of industries. Not least in the real estate sector. Here people are starting to think about and offer more sustainable ways of living. More properties are emerging where the idea is to live with others, but still have your own private space. More facilities are also appearing where people in the surrounding area can come and visit to socialise or borrow household appliances and tools.
After two years of the pandemic, the social element of life has taken some beating and therefore this is a trend in the sharing economy that will continue to stay and develop.
2. Out with the old and in with the recycled
Buying clothes and furniture second-hand has for long been a big trend. The absolute latest is that you can rent new clothes or accessories instead of buying them. There are many new companies, both digital and physical, offering this type of service. Perfect for when you want a new item of clothing but know you'll only use it for a specific occasion. This service gives you a great opportunity to embrace the circular lifestyle even more.
3. Easier to borrow and share
As society becomes more digitalised, more innovative digital solutions are emerging. The automotive sector is one of the many sectors that have embraced this way of thinking. Today, it's easier than ever to borrow a car and even share it with others. Dribe, with which Freetrailer is partner, is a car rental company. Here you have the possibility to share the car with someone else. In this way, the individual does not have to buy a car and pay tax for a car that is perhaps rarely used. The principle is the same as Freetrailer. Through an app, you can freely access a car near you and use it around town. Then the next user can take over and rent the car afterwards. An innovative solution that's here to stay!
The sharing economic way of thinking is for sure alive and increasing in Europe. We will have even more sharing economy trends in 2023.